SLEEVE EVO | DCM
SLEEVE EVO AUTO INTENSE
| DCM
---
Sleeve forming machine with modular design.
The modular design of Sleeve EVO adapts perfectly
to evolving needs of sleeve manufactures.
It can be easily upgraded to AUTO or INTENSE versions
by adding non-stop unwinding or non-stop rewinding modules.
All latest developments are available on this machine :
automatic web adjustment and seaming line control,
quality control inline,
defects identification.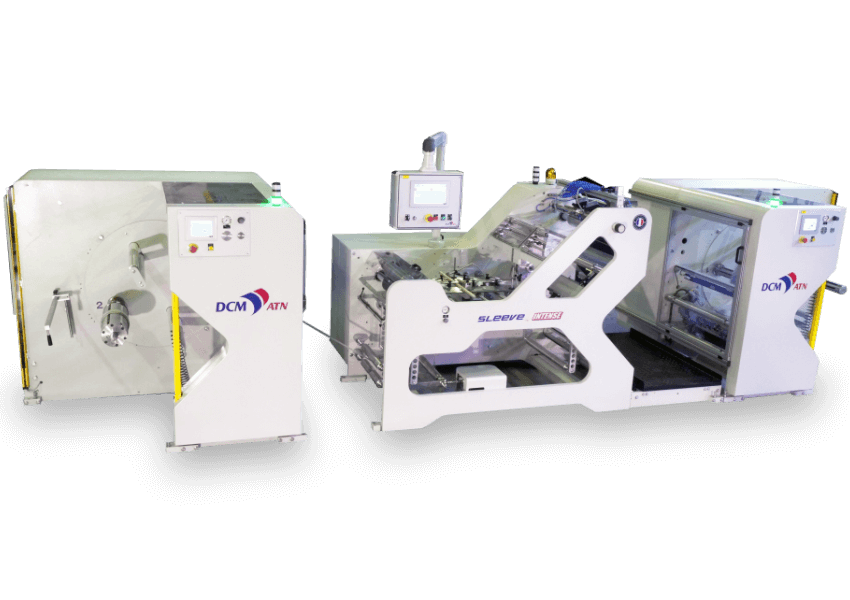 TECHNICAL DATA
---
Mother reel web width : 100 to 610mm (option 50mm)
Maximum mother reel diameter : 610 to 800mm
Lay flat sleeve width : 50 to 300mm (option 30mm)
Rewind diameter : 610mm
Maximum production speed : 500m/min
MACHINE DESCRIPTION
---
Adjustable and motorized forming table
Automatic electronic regulator of the solvent flow to the machine speed
Automatic web guide aligner
Memorization of all production parameters
Touch screen machine control interface
Options
- Longitudinal perforation
- Tear tape applicator
- Quality control
MATERIALS
---
Shrinkable film
in PET, PVC, OPS, PLA
from 28 up to 100µm